China's first smart basketball made possible through cross-Straits collaboration
font-size: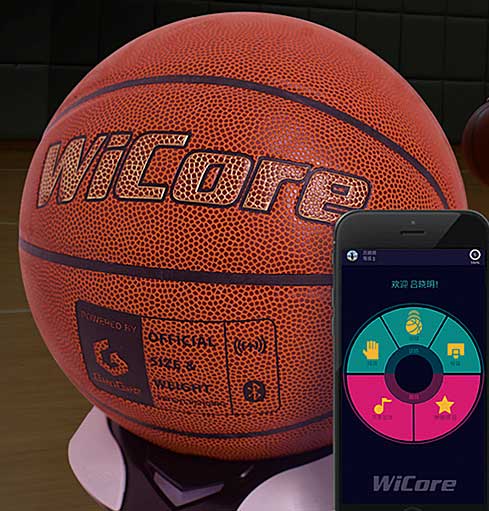 Cross-Straits technology firm GenGee bounced China's first smart basketball onto the market on Wednesday after it held a launching ceremony in Xiamen, Fujian province.

The company announced the market release of the first 46 limited edition balls and said that a further 1,000 balls can be ordered on the company's WeChat shop.

According to Qilu Evening News, the company has received 377 bookings as of 1 pm Wednesday.

The WiCore basketball, as it is known, is internally kitted out with a smart chip, sensor and wireless charging module, making it capable of tracking particular movements.

The 9.5 gram smart module is embedded in a sophisticated way so users won't feel it's anything different from a standard basketball.

Stats such as the user's speed of dribbling, hit rate and angle and force of shots will be collected and sent to a phone app. Users can then pour over the data and identify areas of improvement, such as ball handling, dribbling and shooting.

Basketball players can share their scores on social media platforms and link up with other WiCore users.

The WiCore ball's market price of 699 yuan ($108) is modest in comparison to some models available in overseas markets.

Music is another key feature of the product. Aside from a range of in-app music available to accompany the training process, the basketball is also capable of generating its own sounds, according to its developer.

With bases in both Xiamen, Fujian province and Taipei, Taiwan province, GenGee has pooled all available strength from the mainland and Taiwan to create the best research team possible.

Only a few months after the development of the basketball started in April of last year, the research team entered the fourth China Innovation & Entrepreneurship Competition's Xiamen section with the first edition of its WiCore basketball and won the Internet and mobile Internet round.

The team has since made several improvements to the system to bring the most satisfying product to the market. They have also registered several patents since winning the competition.

GenGee previously found commercial success with the release of its WiCore football, which is available in more than 20 provincial regions in China. The company's founder, Han Buyong, attributed its success in product development to the international makeup of its research team. The team comprises of members from countries such as the Netherlands, Australia, New Zealand and China.
The WiCore basketball and the interface of the smartphone app it is paired with. [Photo from qlwb.com]
Related articles

This article has no related articles!