What have AI and Blockchain to do with IP monetization in China?
Post Time:2020-03-27
Source:iprdaily.com
Author:Jili Chung
Views:
font-size:
AI, Big Data and Blockchain are changing the business norms of the world. China is leading in these areas. How does such competitive advantage foster China's innovation and help to exploit the value of IPs?

China, like a few other countries worldwide, is experiencing an industrial revolution driven by Artificial Intelligence (AI) and other emerging and disruptive technologies, such as Big Data and 5G communication. In fact, China is now leading in patent applications and thriving in business innovations out of these emerging technologies. For example, for innovations relating to applications of AI and Big Data in finance ("FinTech"), at least three Chinese players (i.e., Pin An, Alibaba, and Tencent) have gained a strategic position through their patent portfolios.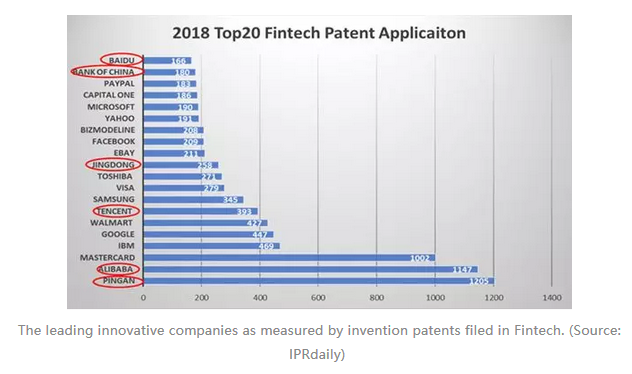 IP monetization is benefiting from AI applications

AI technologies in many aspects could enhance, unlock, exploit, and facilitate the findings of the inherent values of IPs, and thus facilitate the underlying transactions for IP commercialization.

For example, AI, combined with Data Mining technologies, may help to conduct patent searches more efficiently. Until a few years ago, the preparation of a citation map for a patent could take weeks. Now, it is only one-click away. In addition, AI Supervised Learning can assist professional valuers to determine the value of a patent more objectively and consistently. These improvements are increasing the confidence of parties to IP monetization deals and in turn increase deal flows in the financial system.

About a dozen of startups in China are now building their business models around such AI applications in patent search services. Some leading teams have already distinguished themselves by integrating AI/Big Data valuation modules into their data bases, while other market players are still using traditional IP search tools to evaluate IPs.

IP monetization in China is also benefiting from Blockchain

Blockchain was once a challenged area in China when its application was narrowly focused on cybercurrency. However, to many people's surprise, in October 2019 the top Chinese leaders summoned a high-level conference to discuss Blockchain's merits in new technology revolution and industrial transformation. This new initiative has spurred many startups, experiments and researches in these areas.

For example, more and more legal scholars are now studying the Blockchain's characteristics of timestamping and resistance to the retroactive alterations of data and proposing amendments to the relevant regulatory regimes with these new technology edges.

Working together to mitigate information risks

AI, Big Data, and Blockchain could also work together to mitigate information risks in IP monetization deals. For example, AI and Big Data Technologies can connect information of a patent deposited at various relevant authorities in different locations. In China, a patent valuer once needed to check up IP authorities, financial authorities, and commerce administration authorities to ascertain whether the patent was subject to any encumbrance of rights. Missing a piece of information could result in miscalculating the value of the patent; but a comprehensive due diligence takes significant time and resource. A valuer, therefore, often needed to balance the risk against the cost involved.

Now, in China such risk may be mitigated by the aforementioned patent search service providers who utilize AI and Data Management technologies to gather information concerning a patent.

Meanwhile, the Blockchain's characteristics of timestamping and resistance to retroactive alterations are expected to reduce ownership disputes arising from inventorship or chains of titles in transactions.

On the public side, the Chinese government is regulating the Blockchain's underlying technology, i.e., cryptography. State Cryptography Administration (SCA) has been in operation since 2019, and a dedicated regulation, i.e., Cryptography Law was promulgated on January 2020. The foundations of the regulatory framework regarding these emerging technologies are ready in place.

These ongoing regulatory and policy developments are cultivating an environment where deal managers of IP monetization in China can find more tools or services to determine a more convincing value for the underlying IPs and mitigate transactions risks. (Dr. Jili Chung is currently working in Greater China, founding SpringIP Group, dedicated to foster enterprises' innovation through AI and Big Data tools. Carlo Geremia at Nctm also has contribution.)