Textbook piracy crackdown unlikely to work, greater awareness needed: experts
Post Time:2016-03-22
Source:Global Times
Author:Kou Jie
Views:
font-size: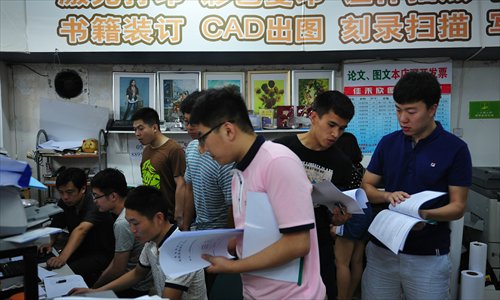 Students print their theses in a print store in the campus of Qingdao University of Science and Technology in East China's Shandong Province on June 19, 2014. Photo: CFP

Textbook piracy will face a crackdown in universities and print shops in 40 cities until September, but experts argue that a specific law is urgently needed to curb the country's rampant copyright infringement problem.

Jointly launched by five departments including the national office "against pornography and illegal publication" and the Ministry of Education, the campaign will seek to punish people making "illegal" copies of copyrighted works, especially textbooks printed in shops near college campuses, as well as cracking down on websites offering such services.

Forty cities that have several universities, including Beijing and Shanghai, will be strictly inspected, according to a government announcement made in February.

Despite the government's campaign against piracy, experts said such periodic campaigns have a limited impact, and the fact that many people do not realize what kinds of copy-making are illegal as well as the absence of specific anti-piracy laws are main factors that allow piracy to proliferate in China.

Low awareness

"I have been printing textbooks for many years and never heard that such behaviors could be illegal," a print shop owner who gave his name as Wang, told the Global Times.

Located in Beijing's Haidian district, home to many famous universities, Wang's print shop offers services including textbook printing and scanning, as well as bookbinding.

"Most of my clients are college students. Textbooks, especially imported ones, are quite pricy for them. They prefer to print the books for a much lower price," Wang said.

According to several print shops reached by the Global Times, copying and printing both sides of a page can cost as little as 0.05 yuan ($0.007) per page, and discounts are offered if one wants larger books copied.

"Most of my classmates prefer to print textbooks rather than buy them. For instance, the 906-page Principles of Economics costs at least 339 yuan, but I can print a copy for less than 100 yuan," Li Xin (pseudonym), a Beijing-based sophomore told the Global Times.

Unlike Wang, some other print shop owners reached by the Global Times said they have heard about the crackdown and have already stopped printing textbooks, though most admit they will probably resume printing books when the crackdown is over.

In 2014 the authorities confiscated over 12 million pirated and illegal publications, as well as investigating more than 2,600 cases involving publication piracy in 2014, the Xinhua News Agency reported in April 2015.

Vague laws

"China's current copyright law is not specific enough, which may hamper its implementation, as well as failing to help the public accurately understand copyright infringement," Xu Xinming, a Beijing-based lawyer specializing in intellectual property, told the Global Times.

According to the law, students are allowed to print books for "personal use such as study, research and appreciation," as long as they don't "violate the legitimate rights of copyright owners." It does not specifically define print shops' responsibilities, nor set limitations on their services, which leads to a great deal of uncertainty about where the line between illegal and legal copy-making lies.

"Under the current law, print shops are forbidden to print and sell the books themselves, but they may get away with it if they do it at a student's request," a Beijing-based lawyer who asked for anonymity told the Global Times.

"Periodical crackdowns have limited impacts on piracy, as such campaigns cannot reach all print shops. Once the crackdown is over, acts of copyright infringement will surge again," Xu said.

"China can learn from the experiences of countries such as Germany. German law allows a book to be copied as a whole only when it's been out of print for two years, and the print shop charges clients not only a print fee, but also a fee for the copyright owners," said Wang Qian, a professor at the School of Intellectual Property of East China University of Political Science and Law.

"Universities should also educate students to respect copyright, while law enforcement should cooperate with universities to help build more qualified print shops," Xu added.

The campaign will also punish those who make "illegal copies of religious and harmful publications," though the announcement did not say what punishment people would receive, or what texts are covered by this description.