Cultural industries see growth ahead
Post Time:2016-11-08
Source:China Daily
Author:Wang Jinhui、Hu Meidong
Views:
font-size:
Not only a platform for bilateral ties, the ninth Cross-Straits Cultural Industries Fair held from Nov 4 to 7 in Xiamen, Fujian province, creates a new path for booming cultural industries amid the internet era, said experts.
"Cultural industries are the engine for economic growth, and are key to other industries upgrading and innovating, including those such as involved in information, real estate, tourism and agriculture," said Jin Yuanman, director of the Cultural and Creative Industries Studies Center of Renmin University of China.
"In the past, customers tended to buy things provided by producers, but now the market relies heavily on what consumers want to buy, and the internet plays a vital role in renovating the development model for cultural industries," he said.
In 2015, the added value for cultural industries in China reached more than 2.72 trillion yuan ($400.5 billion), up 11 percent year-on-year. The number of creative products researched and developed by the Forbidden City totaled 8,700, with revenue of 10 billion yuan. It now has 300,000 fans on shopping website Taobao, a brand from China's e-commerce giant Alibaba Group Holding Ltd.
This year, there are over 2,500 online artwork retailers in China.
Jin said that market-oriented online trends will prosper in the future, and the government needs to offer financial support and fiscal policies to cultural enterprises, especially small and medium-sized enterprises, in the long run.
Meng Huang, director of AliFish, Alibaba's platform for intellectual property authorization, said at the event that Alifish serves as a bridge between enterprises and copyright parties.
"We aim to make a visual cultural trading platform for products and IP, and create an ecological system for the whole industry," Meng said.
The annual event in Xiamen was first launched in 2008 and serves as a cultural and trading platform for enterprises from the Chinese mainland and Taiwan. This year, it has 3,250 booths with an area of 65,000 square meters. It attracted a total of 740 Taiwan-based companies in the cultural industries.
Fan Zhou, dean of the Cultural Development Institute of Communication University of China, said the protection of cultural heritage is a priority for developing cultural products.
"We need to bear in mind laws and regulations related to IP, and establish mechanisms for it in this context. Compared to economic benefits, social benefits are more important," Fan said. "Localization is also a major concern for developing cultural industries. We need to dig up local resources and find a suitable way for promoting the industry," he said.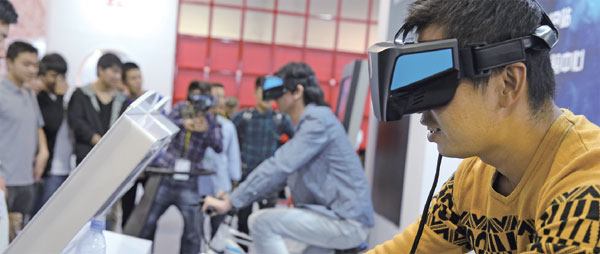 Visitors experience the latest virtual reality products and games at this year's Cross-Straits Cultural Industries Fair held in Xiamen, Fujian province. Photos By Hu Meidong / China Daily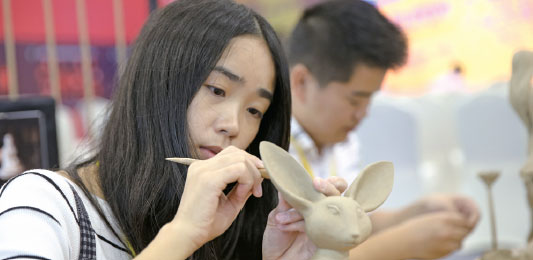 Students from Quanzhou Arts and Crafts Vocational College carve a rabbit at the fair.
Related articles

This article has no related articles!