Apple Files for Major Updates to their Apple Vision Pro Trademark
font-size:
A month after Apple Vision Pro was unveiled, two game controller patents were published by the U.S. Patent Office for Apple (01 and 02), with one of the patent figures from the second patent presented as our cover graphic. While patents alone don't guarantee that Apple will ever bring a game controller to market, having trademarks to cover gaming controllers is a major sign that game controllers are coming to Apple Vision Pro at some point in time.
Apple Vision Pro Trademark Updates
It's extremely import for a trademark to be filed with the appropriate International Classes to protect it for multiple uses. Trademark registration will only protect those classes that have been identified in their original application. In a legal battle, the classes filed for originally could make or break a legal case. Apple lost a major trademark dispute back in April to "Apple Jazz." A unanimous Federal Circuit ruled that Apple could not "tack" its trademark rights for live performances to the Apple Corps trademark for sound recordings, a different category of goods. "Tacking a mark for one good or service does not grant priority for every other good or service in the trademark application."
This is why Apple is now updating their "Apple Vision Pro" trademark to go beyond the headset alone and now cover possible future accessories, mainly game controllers and leather cases."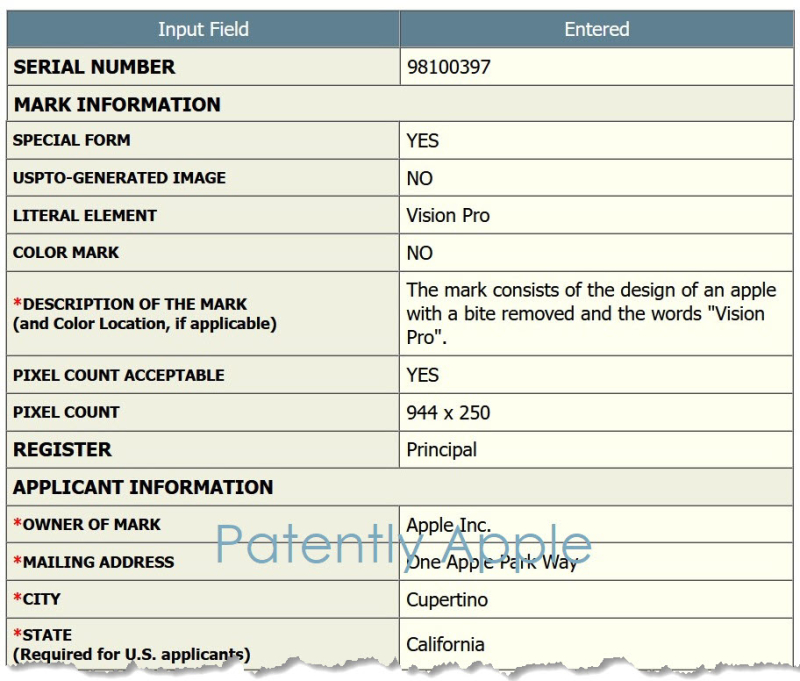 The Supplied Graphic: Figurative version of Apple Vision Pro

Under trademark application 98100397, Apple updated their trademark to be covered by International Class 028 covering the following:
"Electronic hand-held game units; computer game consoles; video game interactive handheld remote controls for playing electronic games; game controllers for computer games; controllers for game consoles; protective carrying cases specially adapted for handheld video games."
Under Apple's second trademark application 98100329 for Apple Vision Pro, they filed it under International Class 018 which covers the following:
"Cases of leather or imitation leather; straps of leather or imitation leather; lanyards of leather or imitation leather; wallets of leather or imitation leather; key cases of leather or imitation leather."
There have been other game controller patents from Apple along the way, such as one published in April and a more traditional controller one published back in 2022.
Hong Kong Trademark Filings for Apple Vision Pro
Apple legal also filed updates to their Apple Vision Pro trademark in Hong Kong.
Trademark application #306302709 covers International Classes 18 (carrying cases, leather straps etc.); Class 28 for hand held game units; Class 27 for repairs and servicing; and Class 41 covers educational services, developer training, interactive games and video games.
Trademark application #306322518 covers International Classes 14 (Horological and chronometric instruments, clocks and jewelry; and 35 covering computer software, accessories, subscriptions and much, much more.