Country developing new age of robotics with patent efforts
Post Time:2016-02-03
Source:China Daily
Author:Hao Nan
Views:
font-size:
With its "Made in China 2025" strategy and its embrace of automation, China is developing its robotics industry to boost high-end manufacturing.
But according to the International Federation of Robotics, Chinese robotics companies are not selling as many of their products globally as their international competitors.
In 2014, 56,000 industrial robots were sold in China, 25 percent of total global sales, the federation said. Of that total, only 16,000, or less than 30 percent, came from Chinese suppliers.
Xu Xiaolan, secretary-general of the Chinese Institute of Electronics, said a lack of patents in core technologies is hurting China's robotics industry.
According to the Industrial Robot Patent Alliance, established in 2014, many of the core patents in industrial robots are owned by four foreign giants: Switzerland's ABB Group, Germany's KUKA Robotics and Japan's Yaskawa Electric Corp and FANUC Corp.
To create more parity, the alliance established a patent pool for industrial robotics technologies, the first of its kind in China, in Guangdong province on Jan 22.
At a ceremony to celebrate the establishment of the pool, the alliance released patent enrollment standards and a management model for the pool. It also signed cooperation agreements with a number of Chinese intellectual property financing institutes, robotics industrial associations and IP fund management companies. The pool currently has almost 100 patents.
Country developing new age of robotics with patent efforts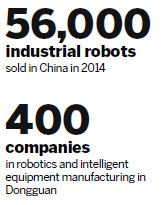 Many industrial insiders consider the establishment of the patent pool a prologue to tackle problems that have hindered the development of China's robotics industry, such as a lack of core and high-value patents.
Hu Jie, an IP lawyer and partner of a Guangzhou patent and trademark agency, said the patent pool will play an important role for China to increase the value of patents and spur technological innovations in the industry.
China can also increase its core competitiveness by acquiring research teams, either domestic or foreign, and cooperate with industrial leaders. ABB, for example, enjoyed rapid growth in the application of robotics patents after it acquired Alfa Laval and Elsag Bailey Process Automation in 1998.
After Shanghai Jiao Tong University established a laboratory with KUKA in 2008, it owned 811 patents on robotics, as of November, ranking it first among universities worldwide, according to the World Intellectual Property Office.
Another issue China must tackle is transforming patents into real productivity. The Nanfang Metropolis Daily quoted Ma Li, director of a Shenzhen research institute for Tsinghua University, as saying that Chinese universities are conducting research and development on industrial robotics differently from market-oriented approaches.
She went on to say that decades of research may never progress from being theoretical concepts.
Many local governments of China are launching initiatives this year to better develop the robotics industry with financial and political support.
The Dongguan city government issued 50 policies on Jan 26 that deputy mayor He Yu lauded as "China's most comprehensive and systematic government document" supporting the industry.
Dongguan currently has about 400 robotics and intelligent equipment manufacturing companies, with combined annual output value of over 20 billion yuan ($3.04 billion), according to the local government.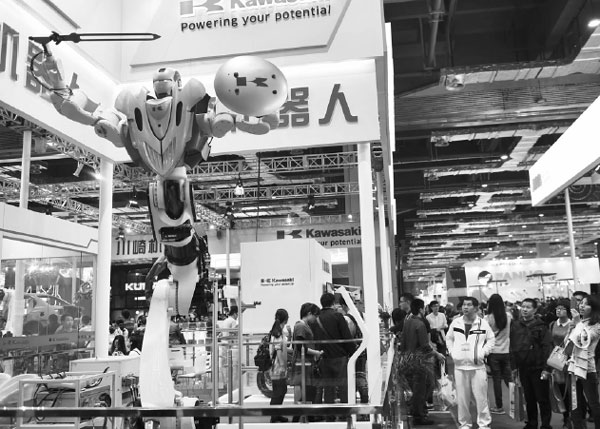 A robot wielding a sword and shield at an exhibition in Shanghai. An industry alliance recently established a patent pool to improve the competitiveness of Chinese robotics companies.Photos Provided To China Daily
Related articles

This article has no related articles!