The lawsuit between Founder and P&G
font-size: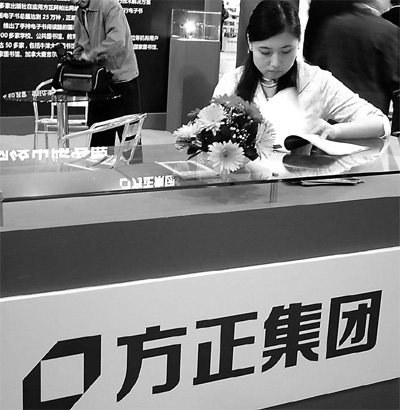 Beijing Founder Electronics Co Ltd has accused P&G of copyright infringement. Asainewsphoto

China's No 1 provider of Chinese font products, Beijing Founder Electronics Co Ltd, has brought consumer goods producer P&G Guangzhou Ltd to court for alleged copyright infringement.

Founder Electronics is asking for 1.34 million yuan in compensation.

The company claims that P&G Guangzhou for the past two years has used a font developed by Founder Electronics on P&G packages, logos, trademarks and advertisements without permission.

The font has been used on 63 P&G products, according to Founder Electronics.

The involved font, or typeface, is called qianti, which means slim due to its resemblance to a slim lady.

Founder Electronics sued P&G Guangzhou and international retailer Carrefour in August 2008 for selling products with the qianti font.

The case reached a Beijing court in late June. A ruling has not yet been issued.

Going to court

"We have no other choice but to turn to the court since P&G Guangzhou turned a blind eye to our continuous efforts to negotiate the issue," Huang Xuejun, director of the Matrix Development Department of Founder Electronics, was quoted by China Times as saying.

P&G Guangzhou declined to discuss the lawsuit.

"It is not convenient to comment on a case under judicial proceedings, but we hope the case will be decided as soon as possible," Zhang Qunxiang, a spokesman for P&G Guangzhou, said.

"The Chinese characters are a tool for public communications, and no government entitles the monopoly rights of fonts to a certain company or an individual," Zhou Lin, an agent of P&G Guangzhou, said after the June court trial.

"Founder Electronics just adjusted the shapes of the characters but not the original structure. It can only claim rights to the digitalized database, rather than all the characters," Zhou said.

The 63 brands described as bearing the qianti font include the high-recognition P&G names of Rejoice, Crest, Sassoon, Safeguard and Whisper.

"If P&G Guangzhzou loses the suit, it will cost a lot for the company to design the logos, package the products and reprint the advertisements. The money which has been invested in marketing is hard to get back," Zhang Bingwu, a senior brand marketing expert, told China Business Weekly.

"What's more, changing the package of the involved products will lower consumers' loyalty to these brands. Otherwise, the company has to pay Founder Electronics to use the font legally," Zhang Bingwu said.

Founder Electronics charges P&G Guangzhou 10,000 yuan for a font, which contains more than 6,000 characters.

"In fact, with our fonts, 90 percent can be used free. Only special fonts developed by Founder Electronics should incur charges when they are used for commercial purposes," Huang of Founder Electronics said.

Founder Electronics bought the copyright of the qianti font from creator Qi Li and then developed and digitalized the font in 1998.

Last April, the company registered the qianti font with the National Copyright Administration and received a copyright certificate from the government agency.

In addition to P&G Guangzhzou, Founder Electronics has taken two online game companies Blizzard Entertainment and the9 to court for alleged copyright infringement of its font.

Huang said companies such as Sony, Samsung and Panasonic have all paid Founder Electronics for the rights to use their fonts legally.

Public awareness

"People's awareness of font copyright is weak. For example, we just sold about 2,000 sets of the newly developed 'Xu Jinglei' font when there have been millions of sets of pirated fonts," Huang said.

Zhang Bingwu said a lawsuit against a well-known brand increases public awareness.

"Suing the famous brand P&G can raise people's awareness about protecting the font copyright," Zhang Bingwu said.

Jiang Yuhong with the Intellectual Property Affairs Center of the Ministry of Science and Technology said fonts should fall into the scope of copyright protection when the national Copyright Act is amended next time.

"The lawsuit may not be a bad thing, since it shows the determination of Founder Electronics to protect its copyrights of fonts," Xu Xinming, a lawyer with www.ciplawyer.com, told China Business Weekly.

Xu said that a stronger enforcement mechanism for font copyrights protection is expected to grow out of the court cases.

He used karaoke music as an example.

"Things are changing. People were used to enjoying the songs free of charge, but after a series of trials on this issue, the public started realizing that it is reasonable to pay to use the songs in karaoke," Xu said.

In the long run, the best resolution to font copyright suits will rely on proper charges for font use, as well as development of font copyrights management, You Yunting, a senior intellectual property lawyer with Shanghai's JoinWay Law Firm, was quoted by China Times as saying.

P&G Guangzhou is the first joint venture in China of US-based Procter & Gamble, the world's No 1 consumer products company.

Founder Electronics is a subsidiary of the Founder Group, a Chinese IT company established by Peking University in 1986.