Company slams swimming champion for 'wrong outfit'
Uniform symbolizes country's reputation, image: ANTA
font-size: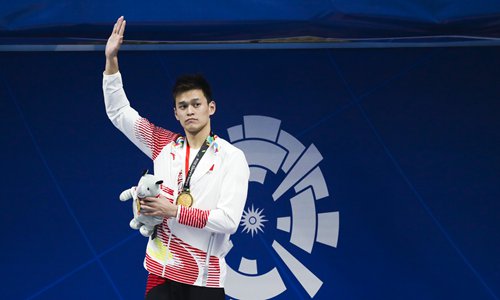 Chinese swimming star Sun Yang wears an outfit of Chinese brand ANTA at the award ceremony after he won the men's 400-meter freestyle event on Tuesday at the 2018 Asian Games. ANTA criticized Sun after he wore the outfit of a sponsor he endorses at a separate award ceremony on Sunday.Photo: VCG


A Chinese gold medalist sparked controversy by wearing a uniform of a sponsor he endorses at the award ceremony instead of the official uniform of the Chinese national team at the 18th Asian Games in Jakarta, Indonesia.

Known as the Chinese Michael Phelps, Sun won the men's 200-meter freestyle event on Sunday at the 2018 Asian Games. Sun wore a 361° sports outfit, a Chinese brand he endorses, during the medal awarding ceremony.

His behavior irritated China's national team sponsor ANTA Sports Products Limited based in East China's Fujian Province.

ANTA is the official partner of the Chinese sports delegation to the 18th Asian Games and Chinese Olympic Committee.

"Athletes must be dressed in official sportswear based on the contract and to build the national image," according to a statement sent by ANTA to the Global Times on Tuesday.

The Chinese delegation "has not responded to the issue," Gu Meng, a company public relations staff member told the Global Times on Tuesday.

"The podium outfit represents not only athletes, but the reputation, image and credibility of a country…it has never happened in sports history when athletes from a country wore a different outfit for a medal ceremony," the ANTA statement said.

Sun Yang's agent declined to comment on the incident when reached by the Global Times on Tuesday. "We need to focus on the games first," she said.

Ji Xinjie, another national team swimmer finished third in the same event dressed in the uniform provided by ANTA on the podium next to Sun.

Sun changed to the ANTA outfit when he won another event on Monday. However, he covered the logo with a decal of the Chinese national flag when he stood on the podium.

"Normally, the contract between the delegation and ANTA would specify where and when the athletes should wear their outfits," Xu Xinming, a Beijing-based lawyer who specializes in intellectual property rights, told the Global Times on Tuesday.

Sun's behavior could have made the delegation violate the agreement, and Sun may have to pay compensation, Xu said. As an athlete representing the country, Sun should first abide by the rules of the national team down to his attire, Xu noted.

ANTA posted a sign on Weibo on Monday saying that podium wear represents the "bottom line of a country, and should not be violated."

Netizens said ANTA was exaggerating and that it is "fighting for its own benefit." Others believe the company should protect its legal interests.

The 361° company failed to respond as of press time. The company said it is also a sponsor of the 18th Asian Games in Jakarta.