IP projects boost patent filings in Zhongguancun
Post Time:2016-02-24
Source:China Daily
Author:Song Mengxing
Views:
font-size:
The high number of patent applications and approvals in 2015 for companies in Zhongguancun, a high-tech business hub in Beijing, partly benefited from intellectual property projects the area implemented in recent years, local IP authorities said.
Companies in Zhongguancun Science Park, which comprises 16 smaller parks, filed more than 60,000 patent applications in 2015, a record high and up 38.4 percent yearon-year. More than 37,800 of those were invention patent applications, an increase of 43.3 percent from 2014.
More than 34,900 patents were granted to those companies in 2015, a year-on-year increase of 52.2 percent and accounting for 37.2 percent of all patents granted in Beijing. More than 12,800 invention patents were granted to Zhongguancun companies in 2015, up 66.1 percent from 2014.
By the end of December, businesses in Zhongguancun had more than 48,300 valid invention patents, accounting for 64.9 percent of those owned by companies in Beijing.
Wang Hong, chief of the Beijing Intellectual Property Office, said the science park has promoted a number of projects, such as a national experimental area for the concentrated development of the IP service industry, in recent years and made notable progress in IP matters.
The State Intellectual Property Office approved the experimental area project in October 2012. The project aims to nurture IP service agencies and professionals as well as guide organizations to provide high-end IP services including IP operations and patent analysis of key sectors.
The Beijing IP office and the Zhongguancun Administrative Committee started a plan in 2014 to nurture leading companies in terms of patent application quantity, patent quality and IP management and use. Leading companies are eligible for financial support of up to 1 million yuan ($153,490) annually and additional help such as IP training, according to the Beijing IP office.
Four such leading companies, including smartphone maker Xiaomi and Internet security company Qihoo 360, are among the top 10 enterprises on the Chinese mainland in terms of invention patent applications filed in 2015.
Xiaomi filed 3,183 such applications, ranking sixth, and Qihoo 360 made 2,777, ranking seventh.
Zhou Yan, deputy director at the Beijing IP office, said leading businesses in the plan work as models and the plan helps increase patent applications from Zhongguancun companies and improve their quality.
Companies in Zhongguancun filed 3,357 international applications under the Patent Cooperation Treaty last year, accounting for 74.7 percent of PCT filings by Beijing and increasing more than 40 percent year-on-year, Beijing Daily reported.
The growth in PCT applications shows companies in Zhongguancun were more capable of IP protection, said Zhou.
Key companies in the mobile Internet and next-generation Internet industry in Zhongguancun filed nearly 20,000 patent applications in 2015, almost one-third of the total filings by businesses in the area.
Zhongguancun has analyzed patent information in six subfields of the mobile Internet sector and supported key mobile Internet companies to formulate patent strategies since it carried out a project focusing on the sector in 2013.
IP authorities in Zhongguancun said the area would continue to nurture leading companies and improve its IP-supported innovation and startup ecosystem this year to help it become a technological innovation center with global influence.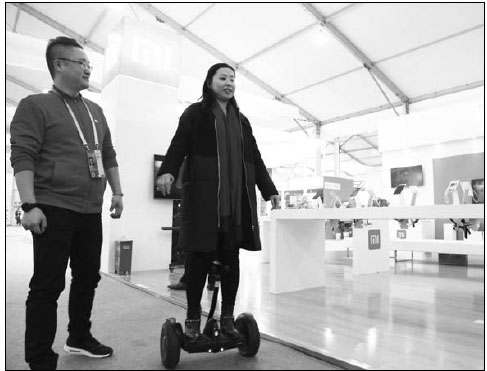 A visitor tests out a Xiaomi hoverboard at an exhibition in Zhejiang province. The Beijing-based company was one of the top filers of invention patents in China in 2015.Provided To China Daily