Qihoo 360 dials into govt market
Post Time:2016-08-25
Source:China Daily
Author:MA SI
Views:
font-size: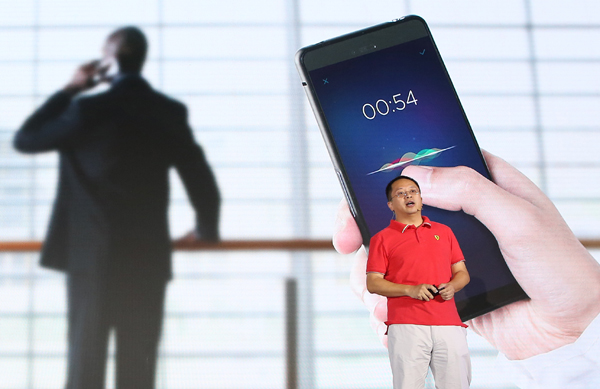 New product features data protection, move to tap official demand for secure devices

China's biggest internet security company Qihoo 360 Technology Co Ltd unveiled a new phone featuring data protection on Tuesday, in a move to meet the growing demand by government officials and business people for information security.

The move is part of the Beijing-based group's broad efforts to tap into the government internet security market, as a rising concern over national security prompts governments and State-enterprises to embrace domestic IT products.

Qihoo CEO and Chairman Zhou Hongyi said the new phone, priced from 1,999 yuan ($300), is equipped with two operating systems, with one designed as a private system where all information is especially encrypted.

"The new device is designed for political, military and commercial officials who have to store confidential information on their devices," Zhou said.

The new device, named Q5, enables users to make encrypted calls, which will be impossible to be hacked and can block receivers from recording the conversations, the company said.

Founded in 2005, Qihoo is well known for its anti-virus software, web browser and mobile application store business in China.

The move came shortly after Qihoo was delisted from the New York Stock Exchange, in a move to free it up to pounce at an "unprecedented" opportunity brought by China's mounting emphasis on cybersecurity.

According to Zhou, the company will soon become entirely funded by domestic investors, which will give it a purely domestic identity to expand its presence in the military and government procurement market.

"We already started serving some military departments. We would not have secured the deal, if we were a foreign-capital backed company," Zhou said, adding currently the company's clients also include governments, financial institutions and national defense research centers.

Jin Di, research manager at the research firm International Data Corp China, said smartphones procured by the government departments can reach several million to 10 million units every year.

"Qihoo's years of experience in internet security services and its abundant collection of patents can give the company an edge," Jin said.

Qihoo said it accounts for 32 percent of internet security-related patent applications in China.

"But it is not easy for the company to enter into the government procure market by starting with smartphones, because it has to compete with more established players such as Huawei Technologies Co Ltd and ZTE Corp," Jin added.
Qihoo CEO Zhou Hongyi at the release of the company's new phone on August 23, 2016 in Beijing. PROVIDED TO CHINA DAILY